Changing lives for those in
Health, Housing and Social Care

Provide expert training and qualifications to the Health Housing and Social Care sectors. We are leaders in our field and since 2016 a recognised Highly Endorsed, Centre of Excellence, Skills for Care provider. We deliver with an outstanding level of occupational competence and are highly qualified, sector specific in the fields we practice.

Build brilliant workforce infrastructures. For many years we have been advising on the importance of great people in an organisation, so now we have built a suite of services to support this. We have the experience and insight into the sectors, the expertise to design and execute the right plans and the passion and empathy to want the sector to move forward.
A vision underpinned by our values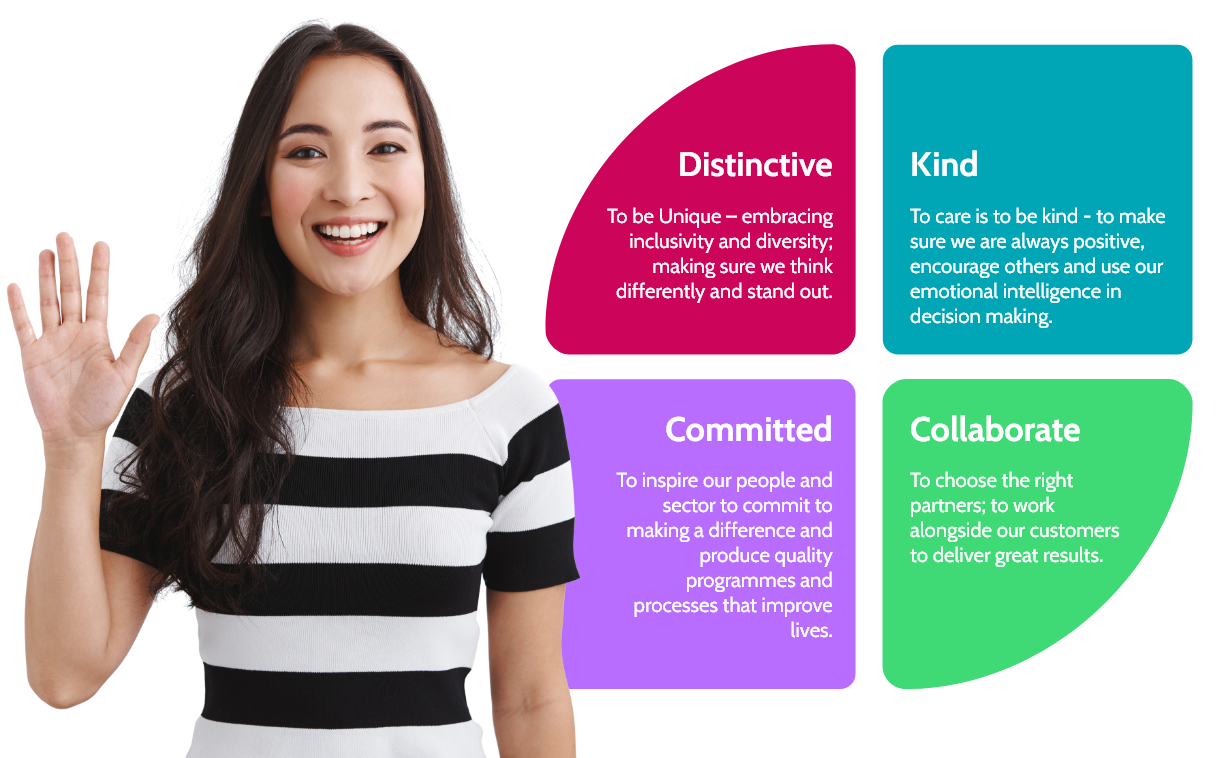 Leadership
Unique by name Unique by nature
Michelle founded UTS in 2003 and is devoted to supporting and championing businesses across Health, Housing, and
Social Care with their key workforce development, performance, and innovation initiatives. A proven expert in the field of training , qualifications, and recruitment, she has a passion for developing leaders and really turning the course of underperforming companies, so they have structured learning paths, developed managers and business leaders who have clear strategic vision and objectives to obtain results.
She is incredibility driven, and this combined with her passion for supporting the sector, she effectively builds great working relationships with stakeholders and senior leaders in business. Michelle is a brilliant leader and by nature the forever optimist; she sees the sectors problems; she works towards positive solutions and outcomes and genuinely cares about the work she does and the people in her business.
And the energy continues outside of work, keeping fit in the gym. As the life and soul of any party, she is a social butterfly who loves her family dearly and the odd bottle (s) of wine and a nice meal to keep that level of positivity flowing.
Emma has over 20 years' experience working with companies to support and build better people focussed processes and behaviours. A longstanding career in the digital and staffing industry that then pivoted specifically into the planning, delivery, and execution of People Strategy for a diverse range of companies. She has a nagging passion to use her skills and abilities to support change and champion progression in the Health Housing and Social Care sectors.
Emma is also an inspirational leader and coach of business leadership teams. She has personally supported a large number of high profile careers and continues to champion women in work and diversity initiatives.
On a less work led note – she loves a gin, is annoyingly attached to her border terrier "Mick" and begrudges spending most of her spare time ferrying the kids about as a poorly paid taxi driver. A much-needed holiday is always in the planning, as is, an 80s Karaoke night!
Want to know more about us?